Lincoln Truck Driver Injury Attorneys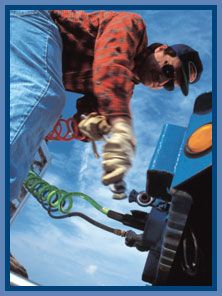 Driving a commercial truck thousands of miles a week, year after year, presents many hazards beyond the risk of highway accidents and other collisions. Simply stated, this occupation is very hard on the body and it leads to many injuries. Prolonged sitting, getting in and out of your vehicle in all types of weather conditions, and loading and unloading are just a few of the activities that can cause serious and even permanently disabling work-related harm.
Professional truckers suffer injuries that take them off the road at a significant rate. If this has happened to you, working with our Lincoln-based truck injury lawyers could make a major difference in the compensation you receive and your ability to move forward in life with hope and stability.
Aggressive Pursuit Of Your Rights To Workers' Compensation Benefits
As a statewide Nebraska workers' compensation and personal injury firm, we have helped many over-the-road truck drivers obtain their rightful benefits — including numerous lump sum settlements for permanently disabling injuries — and overcome problems with their claims. If you need passionate, dedicated representation at any phase of the workers' comp process, our attorneys are here to help.
Our work on behalf of injured truck drivers has spanned a broad range of accident types and causes, forms of injury and employment situations. Applying more than 50 years of experience, we will determine whether you qualify, sort out issues related to whether you should be classified as an employee or independent contractor, and address all other relevant aspects of your case. We offer representation for truck drivers:
Injured anywhere in Nebraska or while working for any of the many interstate transportation companies based in Omaha or elsewhere statewide, such as Werner Enterprises, Crete Carrier Corporation and many more

Injured while performing any work-related activity, whether the outcome is a back injury, neck injury, knee or other leg injury, arm or shoulder injury, a brain injury due to a blow to the head or multiple injuries from a roadway accident
Crippling Truck Driving Back Pain? Our Lawyers In Lincoln Will Advocate For You If You Can No Longer Work.
To consult free of charge with an attorney who will treat you with respect and prioritize your needs, call Miner Scholz & Associates, P.C., L.L.O., today at 855.421.4878. You will owe no attorney fees unless we succeed in helping you obtain compensation.